March 18, 2020
Hope is Also Contagious
A Thought from Fr. Mann
The hit movie Gladiator tells the story of a Roman General, Maximus, who was renowned for his valiant successes in battle.  As would be expected, Maximus enjoyed the good graces of the emperor, to whom he was fiercely loyal.  Things took a bleak turn, however, when the emperor was killed by his own son, Commodus, who was jealous of Maximus.  Maximus was everything that Commodus was not—which was everything Marcus Aurelius loved about him.  Commodus knew it, too.  So, he imprisoned Maximus as a gladiator, which is essentially a death sentence.Maximus discovered that the gladiators were so easily slaughtered not only because of their lack of formal training, but primarily because their mortal fear compelled them to fight only for themselves—until General Maximus inspires hope.Maximus knew he could save Rome from the wicked Commodus by winning the hearts of the Roman people in defiance of the new emperor.  Maximus' hope sparked renewed hope in his team of gladiators, which led them to successfully fight for each other.The point is that our hope must be more contagious than the coronavirus.  Hope enables us to see beyond the dreary doom and gloom of the moment.  Hope enables us to see the good shining through the darkness looming over us.
God reminded me to remain hopeful on the sixteenth of March—just as our local worlds were crashing to a screeching halt.  Allow me to share.  As I prayed, it occurred to me that the date was 3/16/20.  The well know bible verse came to mind (Jn 3:16).  So, I decided to look it up and read Jn 3:16-20, as follows:
16 For God so loved the world that he gave his only Son, so that everyone who believes in him might not perish but might have eternal life. 17 For God did not send his Son into the world to condemn the world, but that the world might be saved through him. 18 Whoever believes in him will not be condemned, but whoever does not believe has already been condemned, because he has not believed in the name of the only Son of God. 19]And this is the verdict, that the light came into the world, but people preferred darkness to light, because their works were evil. 20 For everyone who does wicked things hates the light and does not come toward the light, so that his works might not be exposed.
It got me thinking that this coronavirus thing has somehow imposed a LENT of sorts upon the whole world—for Christians, Jews, Muslims, etc. and even atheists.  The world stands in need of Lenten conversion.  So, let us not waste the opportunity to become prayer warriors—fighting for our own soul and that of the world at large.  As Maximus illustrates, there is real strength when we band together and fight for something bigger than ourselves.
Then, there is this neat little note, which God also taught me:  that the word QUARANTINE literally means:  FORTY DAYS!    Lent indeed.  Let's not forget that GOD IS IN CONTROL!  That is why we have hope.

March 19, 2020
Pope Francis' Coronavirus Prayer
O Mary, you shine continuously on our journey as a sign of salvation and hope.  We entrust ourselves to you, Health of the Sick.  At the foot of the Cross you participated in Jesus' pain, with steadfast faith.  You, Salvation of the Roman People, know what we need.  We are certain that you will provide, so that, as you did at Cana of Galilee, joy and feasting might return after this moment of trial.  Help us, Mother of Divine Love, to conform ourselves to the Father's will and to do what Jesus tells us:
He who took our sufferings upon Himself, and bore our sorrows to bring us, through the Cross, to the joy of the Resurrection. Amen.
We seek refuge under your protection, O Holy Mother of God.  Do not despise our pleas – we who are put to the test – and deliver us from every danger, O glorious and blessed Virgin.

March 20, 2020
Cardinal Nguyen Van Thuan's life reminds Christians everywhere to proclaim the Gospel in all circumstances. He was born on April 17, 1928, and was ordained a priest in 1953. Shortly after he was made coadjutor archbishop of Saigon in 1975, he was arrested and imprisoned by the Communists because of his Catholic faith. After 13 years of imprisonment, nine of which were spent in solitary confinement, he was released on the Feast of the Presentation of Our Lady. While in prison, he manifested his virtuous life.He used his limited resources creatively in order to fulfill his duties as shepherd to the faithful. He solicited the help of a young boy to bring him old calendars. He wrote simple, sincere messages of hope on the calendars and had the young boy copied and distributed them among the faithful. His profound letters to the Catholic community strengthened them in their faith and helped them to persevere in the midst of persecution.He also used his creativity to celebrate Mass in prison. He knew that celebrating Mass was his most important duty, but he had no church, no altar, and no tabernacle. He asked his people to send him medicine for the stomach, and they knew that he meant wine. He celebrated Mass with a drop of wine on the palm of his hand. He turned his palm into an altar, his shirt pocket into a tabernacle and turned the darkness of the sleeping quarters into a dwelling place for Light Himself. Because of his faith, many prisoners regained the fervor of their faith, and prison's guards were converted. His example teaches all Christians that faith entails an active surrender to the Lord. It means seeking the best way to proclaim Christ's love in every moment, every circumstance, and every action. Cardinal Thuan is a model of Christian hope.  Isolation, darkness, and brutality saturated his prison life.Prison life and living in solitary confinement is an extreme form of "self-quarantine" or "social distancing."  May we learn from Cardinal Thuan to accept our own situation that we find ourselves living in now, and be creative in finding ways to persevere in our faith. For example, designate an area in your home for prayer adorned with a crucifix and religious statues or images, pray the rosary or make your own holy hour in that area, and watch Masses on TV, and any other ways that you can think of.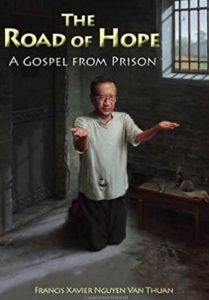 March 21, 2020
Taking a Detour with Spiritual Eyes
by Fr. MannEveryone knows that feeling you get when traveling on a long road trip.  Whether alone, or with family and friends—the feeling is the same.  All prompted by that dreaded sign—that dreaded six letter word:  DETOUR.What that odious word means in the short run, is that traffic is going to slow down.  According, you will arrive to your destination later than planned.  It means that the shortest distance between you and your steak dinner, your celebration or whatever you are planning is no longer a straight line—as you find yourself adjusting to a seemingly senseless series of new twists and turns.  You wonder:  "How can this possibly end up at my destination?"
But such a shallow understanding of a detour is so very shortsighted.  Detours are just an inconvenience.  Plain and simple.
In reality detours are actually a means to a permanent improvement.  It may be sometime down the road, a year, maybe two.  But the smoother, freshly painted road; the wider lanes; the improved flow of traffic.  Are not these benefits worth your patient tolerance of a detour?
Some SPIRITUAL food for thought….The sudden and drastic changes hurled upon us by the coronavirus pandemic is nothing short of a detour of global proportions.  Surely, this detour is an inconvenience.  What improvement—what benefit—could possibly follow, you ask?
This week has been blessed in many ways.  The news is full of stories of people stepping up to help their neighbor.  Even the government has let go of petty partisan politics in a sincere effort to serve the American people.  Wealthy athletes and entertainers promised to pay salaries for those typically underappreciated people who make their success possible.  One lucky waiter was stunned when his client left him a $1000 tip for a bill less than $20.
COVID-19 is not the only thing that has gone viral.  So has basic human kindness.  So has attentiveness to others—family and friends alike—and even strangers!
Locally, I have been edified that amid the mad dash to hoard groceries, so many of you have dropped off food for the needy.  When people don't know where their next paycheck is coming from, many of you have mailed in your weekly donations—trusting in God's providence.  Friday, I had the great joy on four occasions of seeing entire families taking time together to ride bikes on a beautiful day.
May the Spirit give YOU eyes to see the blessings in this crazy, coronavirus detour.  May YOU BE A BLESSING to those who God puts in your path!
March 22, 2020
Laetare Sunday
by Fr. Pham
Today the Universal Church celebrates Laetare Sunday before Passiontide, which is the period of time where Christ suffered and died for the forgiveness of our sins and the salvation of mankind.  Laetare is a Latin word which means "rejoice" to emphasize the joy and hope of the resurrection of Christ that awaits us despite the Passiontide that we participate in along with Christ's suffering and death. This "joyful anticipation of Christ" motivated him to embrace his suffering and death to complete the redemptive mission sent by God the Father in the Holy Spirit.
In our current life situation now in our country and the world, may we have this "joyful anticipation with the hope in God" that he will get us through these difficult times due to COVID 19. And soon be back to our normalcy, and strengthen our faith in God that he has intervened in our times of need and difficulty.
In God we place our trust and hope that all will be well!
March 23, 2020
Do We Embrace the Unpleasantness in Life
By: Deacon Aaron Smith
"Well, it could be worse".  During my almost five years as an Ordained Deacon and close to two decades working in Law Enforcement, I have on probably more than a few occasions uttered those words to myself.  It has been my way of trying to see the brighter side of an uncomfortable or uncertain situation.  While ministering and working in the world I have often been present to witness others' pain, misfortune, sadness, loneliness and results from others' sinful actions.  One of the questions that I have been asked a lot over the years is why does God cause bad things to happen.  I always explain that God may allow bad things to happen for reasons unknown to us, but God does not cause these bad things.  God has given us the gift of free will and it's up to us to do good or do bad and we have the freedom in how we respond to unwanted situations.  I usually include in my response that hopefully some day I get a chance to ask God face to face why he permitted so much evil to occur in the world; I still hope I get that opportunity some day.  For many of us living during this current Global Coronavirus crisis, it may feel like God's trying to have that face to face chat with us sooner rather than later.
It's some consolation that if we look over human history, there have been many prior pandemics and I am sure that several people at the time thought their world was crashing upon them.  As we find ourselves dealing with this new virus in modern society we have to remind ourselves, "well, it could be worse".  Yes, we are for the most part stuck inside our individual homes, many are forbidden from going to their places of employment, churches, barber/hairdresser, or even to a family member's wedding or even a neighbor's funeral due to the preventive safety measures our government has placed upon us.  But, do we consider how lucky we actually are currently?  Do we embrace the unpleasantness we are currently experiencing or are we spending our time socially distancing ourselves not just physically but also emotionally and spiritually? For those of us with minor children at home, our kids have been barred from going to their school and our kitchens and living rooms have become the new classroom.  But do we realize how fortunate we are to live in this modern world?
We may complain that our children are stuck at home instead of school and that we have unwillingly become the newest substitute teacher.  I've had my fair share of discussions over the last week from my eighth grade and third grade sons asking me why I don't understand the "new" math and how could I have a college degree when I can't seem to understand a particular science question.  Others of us may be disappointed or even angry that we can't attend our weekly Mass at the Church.  Have we stopped to embrace these interruptions in our lives?  We may not be able to physically drive to Mass, but how lucky we are to have technology that allows us to watch the Mass daily right from our living rooms via the Parish's website and Facebook page.  We worry about a vaccine not being available now instead of what officials are saying should be within the next year or so.  Have we stopped to consider all of those in our community who were not physically able to get to Mass before the virus crisis? Have we stopped to consider those who previously weren't able to obtain food or paper goods not because of a virus, but because they just couldn't afford it?  How many couples would love to have a child that they could spend time with educating them between gym class on the porch and science class in the upstairs hallway?  How many people were unable to seek medical help over the years because of cost and/or lack of insurance?  How many people over the history of the world had to watch loved ones die because a vaccine was never found?  Yes, if we try hard enough, there's much to complain about while we experience the results of this global virus outbreak.  But, sometimes if we are open enough we may just find that embracing the unpleasantness of life may actually draw us closer to our Lord.  As we continue through Lent, let us try a little harder to understand the pain our Lord went through on the Cross for our sake.  If we stop to think about that, then maybe we'll find ourselves saying about our current situation, "well, it could be worse."   May God be Praised.

March 24, 2020
This Storm Will Pass
by Deacon Al LaMonaca
I pray that you and your families are faring well in light of the current medical emergency we find ourselves. Through the Grace of God and prudently following precautions, Donna and I are blessed to be free of the symptoms connected with the COVID-19 health storm. But like all of us in CTR, the Diocese, the U.S. and the world, we are not free from the continuous rush of this storm's tidal effects. With each of its waves splashing our lives, all of humanity becomes more aware that, like the sands on beaches, all of us are caught and rolled in this illness' surf.
But, as we know, through GOD's Grace and His timeline, this will pass.
Personally, the hardest and coldest wave to hit, awoke my spiritual conscience and left a distasteful saltiness on my lips. It struck my shoreline last week at morning Mass. For the first time in my 70 years I heard, …"This will be the last Public Mass to be celebrated until further notice." The iciness of Father's words frightened me like nothing I'd ever experienced. The thought of life with out the Eucharist in communal celebration at my will was alien and unbelievable.
But just as quickly as the harshness of this wall's force struck, a realization of my true need for this Summit of my faith came to the forefront of my consciousness then penetrated my senses. The thought, that perhaps, I accepted this Gift too casually, a Gift that will always be there for me, when I wanted.
Yes, I've taken advantage of Spiritual Communion in the past, but, Live Mass – it's always been available somewhere soon, when I was ready. Yes, TV Masses are always an option, but they're for shut ins; not necessary for the able bodied, particularly deacons.
Of course, everyone prays that this horrific COVID-19 storm ends quickly, but perhaps there is a purpose in God's plan for it stirring up our lives at this moment in our existence, at this time of year. Maybe, Lent 2020 will be the greatest opportunity for strengthening our relationship with our Heavenly Father, as I suggested we set our sights on back on Ash Wednesday. A true, opportunity of a lifetime. Like you, many times this quest for me has been stalled, sidetracked, and often blocked. But, with all the time I've had recently, and the anticipated time for the immediate weeks remaining before Easter, I can't think of anything standing in my way this time.
Let's take stock in ways we can be more appreciative of the gifts God has given us. In addition to His Mass and Sacraments, perhaps; *the healthy days He has given us and our children, *the ability and means to care for our families, *for our parents, and *everyone else and everything that bring us joy and peace. All those things that He gives us as residuals of His Unconditional Love. Keep your minds and hearts centered on it and it will help you through this passing storm.
In closing I'd like you to reflect on another storm that Matthew speaks about in his Gospel 14:24-33. It reads,
The boat, was being tossed about by the waves, for the wind was against it. During the fourth watch of the night, he came toward them, walking on the sea. When the disciples saw him walking on the sea they were terrified. "It is a ghost," they said, and they cried out in fear. At once Jesus spoke to them, "Take courage, it is I; do not be afraid." Peter said to him in reply, "Lord, if it is you, command me to come to you on the water." He said, "Come." Peter got out of the boat and began to walk on the water toward Jesus. But when he saw how [strong] the wind was he became frightened; and, beginning to sink, he cried out, "Lord, save me!" Immediately Jesus stretched out his hand and caught him, and said to him, "O you of little faith, why did you doubt?" After they got into the boat, the wind died down.
"Take courage, it is I; do not be afraid."
March 25, 2020
Flexibility in Time of Crisis
by Fr. Pham
Having a normal schedule gives us a feeling of security and order, which helps us to get things done accordingly and as planned. This is why we don't like surprises, most especially any tragic event unexpectedly. It creates chaos and feeling of anxiety of the unknown that we now have to face with very little time to reflect and be ready for. Unfortunately, in the last few weeks, news of the COVID 19 gradually comes upon us closer and closer geographically each day that leads to more and more restrictions each day. News of the spread of the virus are all over the internet, TV, and online news through out the day and everyday. Fear and anxiety continue to grow and strengthen within each one of us. Moreover, frustration of expected events or celebrations are suspended stirs within our minds and hearts.
The one key element that I find is very helpful for us to do is "to be flexible in time of crisis". I have been trying very hard to be flexible with my daily activities by accepting the current situation that I'm in, and making the most of what I can do. Celebrating Mass without a congregation is very tough to do because I have feelings too. Meaning, I want to see the people and feel their presence in joining me at Mass. I normally do this only once a week on my day off in my room here at the rectory or in my room at my mom's house in Philadelphia. But now, this has become the "new norm" that I need to get used to for indefinite time. Once again, flexibility in time of crisis helps us to accept the current situation that we are in, and just making the most of what we have and can do. I invite you to do the same as we get through this time of crisis together.
I am very anxious to be back to the "original norm" to get to do so many things with you in person here in our parish, most especially to have public celebration of Mass so all of us can be nourished with the Eucharist and all the other sacraments of the Church.  One last personal hope is to get our softball season starts ASAP 🙂
May God bless and protect you and your family!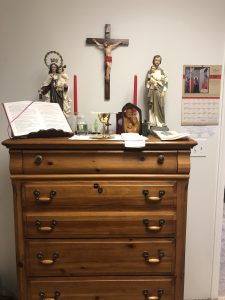 March 26, 2020
Salvation is a Choice: Yes or No?
by Fr. Mann
Yesterday, the Catholic Church throughout the world celebrated the Solemn Feast of the Annunciation. The Annunciation is a historical moment—a YES moment. It is a moment that provokes feelings of awe and wonder, anxiety and fear. The angel's message to Mary provokes every kind of emotion—in all circumstances—of discovering a new pregnancy.
Women: Recall what it felt like to hear the words, "you are pregnant."
Men: Recall what it felt like to hear your wife say to you, "Honey, I'm pregnant."
Even in the best of circumstances, such a moment is overwhelming. Joy. Fear. Awe. Wonder. So many emotions. Imagine what it would feel like in less than ideal circumstances.
Beyond the mystery… Beyond the unfathomable sublimity… The Virgin Mother of God and Saint Joseph felt all that and more. Just imagine what it was like—not with 2000 years of perspective. Imagine the raw reality of it as it was for Mary and Joseph. It was all of a sudden. It was unplanned. It was inconvenient. It was a life-changing crisis. Imagine being told you chosen to be the Mother of God! The experience is inexplicable. But that is precisely what we celebrate today. Mary's YES will culminate nine months from now, on Christmas Day, when God is born.
But for nine months, Jesus—the omnipotent and omnipresent God—will sanctify the womb of the BVM.  And so is sanctified, the womb of every pregnant woman—and so is the life of every pre-born child, linked to the INCARNATE, PRE-BORN SAVIOR—Jesus.
YOUR SALVATION is linked to the womb of Mary—and with that, to Mary's YES to life. Not just biological life, mind you. LIFE IN CHRIST. Life for every disciple of Christ. Thinking about it, our salvation comes down to saying one thing or another to God: YES or NO. It was like that for Adam and Eve. It was like that for Mary and Jesus. It is like that for every soul: for you and for me. Yes, or no?
Our Blessed Mother—as we celebrate her YES at the Annunciation—in this time of coronavirus, closed churches and quarantine—exemplifies perfect trust in God. Mary's YES represents an open heart and an open womb. Even in confusion. Even in crisis. Mary's YES is our hope in these days of so much uncertainty. May this time of quarantine dispose us to being more deeply united to Christ in the womb of Mary—our mother. May Mary, form Jesus, in each us, and may Jesus be incarnated in the world through YOUR PERSONAL YES.
It has always baffled me just how obstinate Pharaoh was in the time of Moses. He was all NO. Yet today, even in the face of a deadly pandemic, how many scream NO to God. For example, those pro-abortion politicians trying to hijack COVID-19 relief to fund the culture of death: We must pray for their change of heart. YES or NO?
March 27, 2020
Hope for the Best and Prepare for the Worst
By Fr. Pham
When I was in time of difficulty to deal with personal issues, my mind was filled with worries, nervousness, and fear of the unknown outcome. I began to spend more time in personal prayer, and seeking help from my family, and my close friends, both priests and laity, for advice and loving support.
The one common piece of advice was to "hope for the best and prepare for the worst". One priest friend asked me: "How's your relationship with God now?" I replied: "Oh, it is great, because I think I am in great shape with Him. It is other human beings that caused me headache and stress." My priest friend replied: "In that case, don't stress out too much because what is most important is your relationship with God, in the end that's what counts." His advice gave me much relief and motivated me to embrace my personal issues and resolve them well.
One lay friend said: "You want to be hopeful that your issues might not be as bad as you imagine, while at the same time be ready for the worst, so you won't be surprised and yet be well prepare for it if it comes your way." This advice helps me to be realistic and practical because some other human beings are not as loving and compassionate as God is to me.
As we are coping with the COVID-19 crisis, I invite you to "hope for the best" that soon we will find a cure and vaccine for it, and that we will return to normalcy sooner than we expected. While at the same time, I invite you to "prepare for the worst" by taking all precautionary steps as the number of people being infected increases and the virus spreads closer and closer to where we live. Secondly, have a plan set for yourself or your family members if one of you gets the virus. Because we think more clearly now and hence make more prudential decisions. Great fear and panic will be our natural response if you yourself or a family member gets the virus.
I myself already have a plan all set if I get the virus, so no one else will get it from me while I find treatment and hopefully recover from it.
May God bless your family and our parish family!

March 28, 2020
Questions from Children In Unknown Times
by Dcn. Al LaMonaca
As we approach the end of the 15-day pause from the normal routines of our lives, I think it's appropriate to take stock in our dealing with our national attempt to pull the reigns in on the COVID-19 global spread. Especially since (as I write at this moment), the numbers of cases climb, and a vaccine has not yet been discovered. A focused reflection on how we're coping within this "voluntary", (for the time being) societal, chemistry experiment is important, to prepare ourselves for the probable expansion of our homes' laboratory in which it is being conducted.
As a help in this reflection, I believe sharing with you an email attachment that came to me a couple of days ago is in order. In full disclosure, it is not my work, nor does its kind sender to me, know the original author. None-the-less, it serves as the seed for what I think aids in fortifying a viable, faith filled approach to the unknowns connected to the current illness.
Please read it with an open heart with faith in our God for whom nothing is unknown. This came to me untitled, in humble indulgence and respect to the author, I'd like to call it, Questions from Children In Unknown Times.
God Bless you and your families.
+++++++
Society: What about my plans?!

God: My plans for you are always better than your own. Don't worry. I'm going to work this all out for your good.

Society: We're not going to get anything done!

God: That's the point. You know how you keep spinning your wheels—always working, moving, doing—but never feeling satisfied? I've given you permission to stop. I've cleared your calendars for you! Your worth isn't tied to busyness or accomplishment. All you have to do is take care of each other.

Society: What does this all mean?

God: It means I'm in control. It means you are human, and I am God. It means I've given you a wonderful opportunity to be the light in a dark world. It means you are going to learn to rely on me.

Society: What are we supposed to do when we can't leave our homes?

God: Rest. You are always so busy and overwhelmed, crying out to me weary and exhausted. Can't you use a break from your fast-paced and over-scheduled lives? Go ahead and rest. Pray. Love your families. Be still and spend time with me.

Society: You mean we're supposed to stay home with our kids all day, every day?

God: Yes. And you're going to be just fine. This time together is a rare gift. The rush of daily life has come to a halt. Play games. Bake cookies. Work on projects you've never had the time for. Teach them kindness and grace. Show them how to endure difficult circumstances and steer them toward me.

Society: We better start hoarding anything we can get our hands on!

God: Prevention, yes. Precaution, yes. Preparedness, yes. But after that, it's time to put the needs of others before your own. When you see someone in need, help them. Offer up what you have. Do not worry about tomorrow! Haven't I always taken care of you? Now, go take care of someone else.

Society: Why is this happening?

God: To remind you that I'm in control. To bring your attention back to me. I'm bringing you together as families and neighbors. I'm showing you patience and perseverance. I'm reminding you of your purpose and priorities. Now is the time to learn and teach your children what this life is really about.

Society: We don't know who to believe.

God: Believe in me. Trust me. Ask me for wisdom and I will surely give it.

Society: We're scared!

God: I've got this… and… I'm with you.