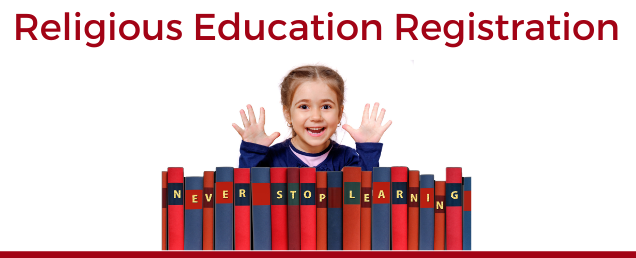 2023-2024 Religious Education Program 
Dear Parents and Guardians,
Our hope is that the time your children spend with us will help them to grow in their knowledge and love of Jesus Christ.  Of course, the greatest influencer of your child's faith is YOU! Children learn what they live, so they look to you to learn how to talk and listen to God in prayer, how to worship Him at Mass and how to live as disciples of Jesus Christ.  You are their first teachers in the faith, so we are here to support you!  To that end, we are pleased to offer the following Religious Education program.
Participation in the program includes three required components:
1) Weekly attendance at Sunday Mass and Holy Days
2) Attending six (6) parish events throughout the year (July 2023 – June 2024)
3) Attending instructional sessions through one of the four options listed below:
A. Summer Intensive (July 10-14 and 17-21, 2023) 10 half days from 7:50am–12:00pm (Students must attend all 10 days.)
B. Mondays (Sept to May) from 6:15-7:30pm
C. Families of Faith (Sept to May) Monthly Family Session + Assignments at Home
Tuesdays from 6:30-8:00pm
Sept 26, Oct 17, Nov 14, Dec 19, Jan 16, Feb 20, March 19, April 16, May 21
OR
Sundays from 9:00-11:30am
Sept 24, Oct 15, Nov 12, Dec 17, Jan 21, Feb 25, March 17, April 14 and May 19
2. Submit tuition online via
Parishgiving
OR mail/bring a check made payable to:
Christ the Redeemer Religious Education
318 Carl Hasselhan Drive

Tuition
Summer – $215 per child
September to May (in-person or online)
– $125.00 for 1 student
– $225.00 for 2 or more students in same family
For any NEW students baptized at another parish, a copy of the child's Baptismal certificate must be submitted to complete the registration.
Key Documents
Any questions, please email or call the office of Religious Education:
religioused@christtheredeemer.us
856-767-0719