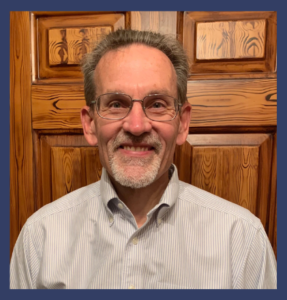 I was born in Newark, New Jersey. Growing up, my family were weekly attendees at Sunday Mass. I attended Catholic grammar school and high school, graduating as a proud Essex Catholic High School Eagle in 1978.   Upon college graduation, I moved down to South Jersey in 1982, taking a job as an engineer with Philadelphia Electric Company.  I would spend my entire working career in the utility industry, retiring from Exelon in 2019.  After a one-year stint with South Jersey Gas in 2019-2020, I left the business world right before ordination.
I was married to my wife Annette for almost 35 years, before her passing in 2017.  I have three adult children and currently am a grandfather of six.
My vocation to the diaconate was a slow build up, not driven by a singular revelation, but built over time by more subtle signs.  I first became aware of the diaconate when I moved to Sicklerville and began attending St. John Neumann Parish.  The parish has two deacons, and that was when I first thought that this was something I could see myself becoming.  After the merger of St. John Neumann and St. Mary's in Williamstown, I became more involved in lay ministries such as Lector, Extraordinary Minister of Holy Communion, and Religious Education.  That involvement rekindled my consideration of the diaconate.  The final tipping point came at an information session for the diaconate that I attended in 2014.  During that session, Deacon Leo McBlain made a comment that resonated with me.  He said, "If right now you are even 51% positive about becoming a deacon, then continue down the path".  I was at least 51% sure, so I continued and never looked back.
I can honestly say that throughout my ministry, the diaconate has been more of a blessing than I could ever have imagined.  I am blessed with the assignment to a wonderful parish and a ministry to the sick as a hospital chaplain.