St. Rita of Cascia Intercessors
St. Rita of Cascia Intercessors meet September to May on the 22nd of each month or the closest day to the 22nd if space, or any other event, causes a change to be made.  The gathering place is St. Rita's Statue outside the parish hall.  In the event of inclement weather the meeting place is St. Rita's Hall.  Please see the parish calendar for days and times.
At our meetings, we will say the Novena to St. Rita, offer prayers for special intentions and listen to testimony from our members.
St. Rita of Cascia Novena and Feast Day
St. Rita's Novena – May 13-21
Nine nightly gatherings at St Rita of Cascia's Rose Garden on the grounds of Assumption Church.
Gatherings consist of novena litany, inspirational talks on the life of St Rita,  request for special intentions, singing, and testimonies of  favors granted.  Petition requests/thanksgiving  are collected and presented at the Solemn Mass and then forwarded to the Shrine of St. Rita in Philadelphia.  Click here for the Novena Prayers.
 St. Rita's Feast Day – May 22
A Solemn Mass celebration is held at Assumption Church at which blessed roses and bottles of oil* are presented to the devotees.  The distribution of blessed roses also occurs at the 9:00am and 11:00am Sunday Masses at Assumption Church closest to May 22.
*For pre-ordering novena booklet ($2.00) and bottle of oil ($2.00), contact the parish office for more information prior to May 1 of each year.
History of the Devotion to St. Rita at Christ the Redeemer Parish
Devotion to St. Rita of Cascia goes back decades in Christ the Redeemer Parish. A local Society of St. Rita was established at Christ the Redeemer (formerly Assumption Parish) by John Pangia and his family. They had strong devotion to St. Rita after John experienced recovery from a severe leg injury through her intercession. The national St. Rita Society which operates through her shrine in Philadelphia was founded in 1910 with the mission of promoting her life and message of peace and forgiveness and to bring together all those devoted to her. The Society established at Assumption shared in this mission.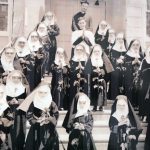 For many years a celebration was held on St. Rita's feast day, starting with a procession. The tradition was to dress young girls as nuns emulating St. Rita and process to the church, each carrying a single rose. After the Mass held in her honor, the girls each brought their rose and placed it before the statue of St. Rita. At its height, the society had over 300 members who gathered each year for the Novena, Procession, Mass and Feast Day dinner. Sadly, like many organizations during the 1960's, interest in the society waned and it slowly faded.
The Pangia family, however, has never moved far from this wonderful saint. Albert Pangia, grandson of the founder of the Society at Assumption Parish that was active in the 1940s-60s, has carried on the family's devotion. He is responsible for the beautiful rose garden in front of the parish hall, at the center of which is a statue of St. Rita.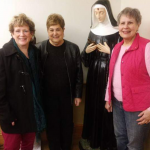 In recent years, a resurgence of interest in St. Rita developed at Christ the Redeemer Parish. The St. Rita rose garden inspired parishioner Rita Wood to request of the pastor that devotions to St. Rita be initiated. Prior to her request, she was unaware of the history of devotion to this saint in the parish. In 2015, devotees came together to pray the Novena and hold a feast celebration in the garden. Thanks to the ongoing work of the St. Rita ministry team, our parish continues to participate in the Novena and Feast Day celebration in her honor.
As an outgrowth of the annual devotion, the St. Rita's Intercessors arose, lead by Rita Hanna. This prayer group devoted to St. Rita meets on the 22nd of each month. New members are always welcome to join them.
In 2019, our parish received another gift from the Pangias to further our devotion to St Rita. A beautiful and nearly life size statue of St. Rita now resides at Assumption Church.
Reflections on the Life and Virtues of St. Rita
Click below on a title of St. Rita for a brief audio reflection.  
May 13 – History of the Devotion to St. Rita at Christ the Redeemer Parish
May 14 – Model of Obedience to God's Will 
May 15 – Generous in Forgiving
May 16 – Patient in Suffering
May 17 – Embracing Humility and Poverty
May 18 – Martyr in Penitence
May 19 – In Ecstasy Before the Blessed Sacrament
May 20 – Persevering Prayer
May 21 – Help of Those in Need
Words of Inspiration Talks
Perseverance
When I chose this topic, I wondered just how many times St. Rita had to use this virtue.  She always used prayer, as a way to help through her hardest moments. Her perseverance in prayer was the way that I believe helped her to cope.
It was apparent that she needed to persevere regarding her own personal desires, even though her parents arranged for her to marry one of the gentlemen of Cascia at the age of 14. Her own desire was to enter a convent but her parents would not permit it.
Her life was certainly not an easy one. Her husband was not always kind but rather rude to her but she persevered praying to Jesus to help her through these hard times. After her husband's death, her life once again became even harder because now she had to try to contain the anger of her two sons, who wanted to avenge their father's death. Her devotion and constant prayers to Jesus, led to her sons both falling ill before they could commit murder.
She felt that after the death of her husband and sons, she could finally enter religious life but she was rejected. Once she helped to bring peace between the rivaling parties in Cascia, she was finally welcomed into the convent, after being rejected three times.  As I reflect on her life up to this point, I can imagine the sadness and frustration that she must have felt. It is very hard sometimes for many of us to persevere with our own desires after experiencing so many hardships and road blocks.
She was so thankful and loving to Jesus that she wanted to share in his agony during the crucifixion. She was in constant prayer. Eventually, she was given the stigmata of a thorn on her forehead. She said it was a gift from Our Lord. She never complained, even though she endured constant pain until her death.
In our everyday life today, we sometimes find illnesses or even death of a close friend or family member and we try to understand why things happen that hurt us so deeply.  At times, such as this, we must reflect on the perseverance that St. Rita had and her love for Our Lord.  It was as though she knew from her early days, that Our Lord would look after her and handle all of the grief and disappointments that she encountered along the way.  It is very easy for us to lose sight of this.
St. Rita recognized that prayer and perseverance to Our Lord would give her the peace that she desired. Sometimes, it is easy to give up and not continue the fight when we feel defeated or disillusioned but this is when we need to pray to St. Rita and have her show us the way and bring us the peace that she felt. She will guide us through our hardships but we need to persevere as she did and continue to pray. She has become known as the Advocate of hopeless or impossible cases. We must not lose hope if our prayer does not get answered right away, we must persevere and continue to pray as our dear St. Rita has shown us.
Lauren Gibson
Parishioner
St. Rita: Advocate of the Helpless and Saint of Hopeless Cases
St. Rita is, by far, the best known and best loved of the Augustinian Saints.  She has become known as the Advocate of the Helpless, even the Saint of Hopeless Cases.  Part of St. Rita's attraction is probably the fact that, during a hard and difficult life, she lived through just about all states of life any Christian woman can experience – from girlhood, through married life and widowhood, to the religious life of an enclosed Augustinian nun.
On St. Rita's feast day – 22nd May – every year, roses are blessed for the sick and for devotees of St. Rita in Augustinian churches.  Later, dried rose petals are often given to those who request them or held in reverence.
St. Rita is an example and inspiration to so many people because, in her own life, she shared the experiences of so many people in several different ways of life – wife, mother, and widow, religious – and always has an encouraging and consoling message for everyone.
Prayer Intention in Request*
"O glorious St. Rita, you have been called, 'Advocate of hopeless and even impossible cases' replying on your power with our merciful Savior, we ask of you….: Obtain our petitions for us if they are for the greater honor of God, and for our good. We have confidence that everyone who has recourse to you will find comfort and relief."
Prayer Intention in Thanksgiving*
"St. Rita, we promise, if our petitions are granted, to make know your favor and to glorify God for His gift."
*Excerpt from St Rita novena
Rita T Wood
Parishioner
St Rita of Cascia Ministry – Library DVDs:
Saint Rita – No Cause is Ever Lost
Saint Rita is immortalized in this beautifully photographed and moving film.  The film tells the story of her marriage, the death of her sons and her journey to bring two feuding families together in peace.  It's the story of deep love, betrayal, tragedy and profound faith and forgiveness. It stars Vittoria Belvedere and Martin Crewes.
Run Time 210 minutes
Language: Italian with English subtitles
Saint Rita of Cascia – The True Story
Brought to you by Ignatius Press, this docu-drama tells the life story of Saint Rita of Cascia.  Through dramatization the film brings to life the pain, sorrow, tragedy and ultimate joy in the life of our patron saint who lived in 14th century Italy.
Running time: 61 minutes

These DVDs may be borrowed.  A $25 deposit is required for each DVD.  The deposit will be returned when the DVD is returned.
For more information on how to borrow, contact the St. Rita of Cascia Ministry (Rita Wood) through the Parish Office.